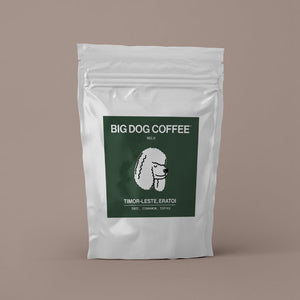 Bee Kind Risca
Big dog coffee belu, Timor-Kesteven,eratoi coffee beans 250g
Regular price
£10.00
£0.00
Unit price
per
Tax included.
Origin - Timor-Leste
Region – Eratoi
Producer Group - Eratoi Cooperative
Lead Farmer - Simao Pedro de Desus
Altitude – 1800 masl
Process – Fully Washed
Varietal – Typica, Timor-Hybrid
Tasting Notes - Date, Cinnamon, Toffee
This is our first coffee from the South east Asian nation Timor-Leste, also known as East Timor. The nation gained independence from Indonesia back in 2002 and stands as the world's 2nd youngest country. Coffee was first introduced by the Portuguese in the 1900s and dominates the list of commodities produced by the nation. 
Timorese specialty coffee has a unique identity, growing wild and organically below the imposing shade trees that carve the landscape. Specialty coffee here is the main source of income for many farmers and their families. A farmers craft has been past down from generations before, and the 'new gen' are investing and refining the age old processes. Specialty coffee provides the Timorese people with opportunities and consistent, sustainable income which transcends to their families and communities. 
The story of the Timorese paired with the growing conditions of the coffee made for an easy selection process. The forest grown coffee has provided an adequate balance of sun and shade, allowing the coffee to mature slowly for optimum sweetness when processed. Consistency is truly key at Eratoi, the farmers all follow the same processing methods, ensuring only the ripest cherries are picked and processed. The coffee is meticulously fermented for 40-42 hours and dried on raised beds. The final cup encompasses balance, showcasing a light body and moderate acidity. A sweet delight as filter or a classic, sticky toffee pudding as espresso.
The quality coffees brings the unique flavor of this island nation right to your cup. Carefully selected for quality, this fully washed coffee creates a rich, velvety experience that tantalizes the senses and whets the appetite for more. Enjoy a cup of Timor-Leste's finest and savor the complex flavor of sophistication
---